Secure Your Services via Banyan's Zero Trust Capabilities
How to navigate through Banyan's Secure Services onboarding flow
---
Overview
This document covers the steps required to publish and secure Banyan Services in your org.
In the Services model, Banyan provides registered users' devices access to specific protected resources. Access groups (e.g., users and roles) and resources are specified by the admin, and Banyan Policies enforce access rules.
Service-based connectivity is agnostic to the underlying network, and it's jointly mediated by our components, the Access Tier (an identity) and the Connector.
Steps
Step 1: Select the secure services path:
Secure Your Services via Banyan's Zero Trust Capabilities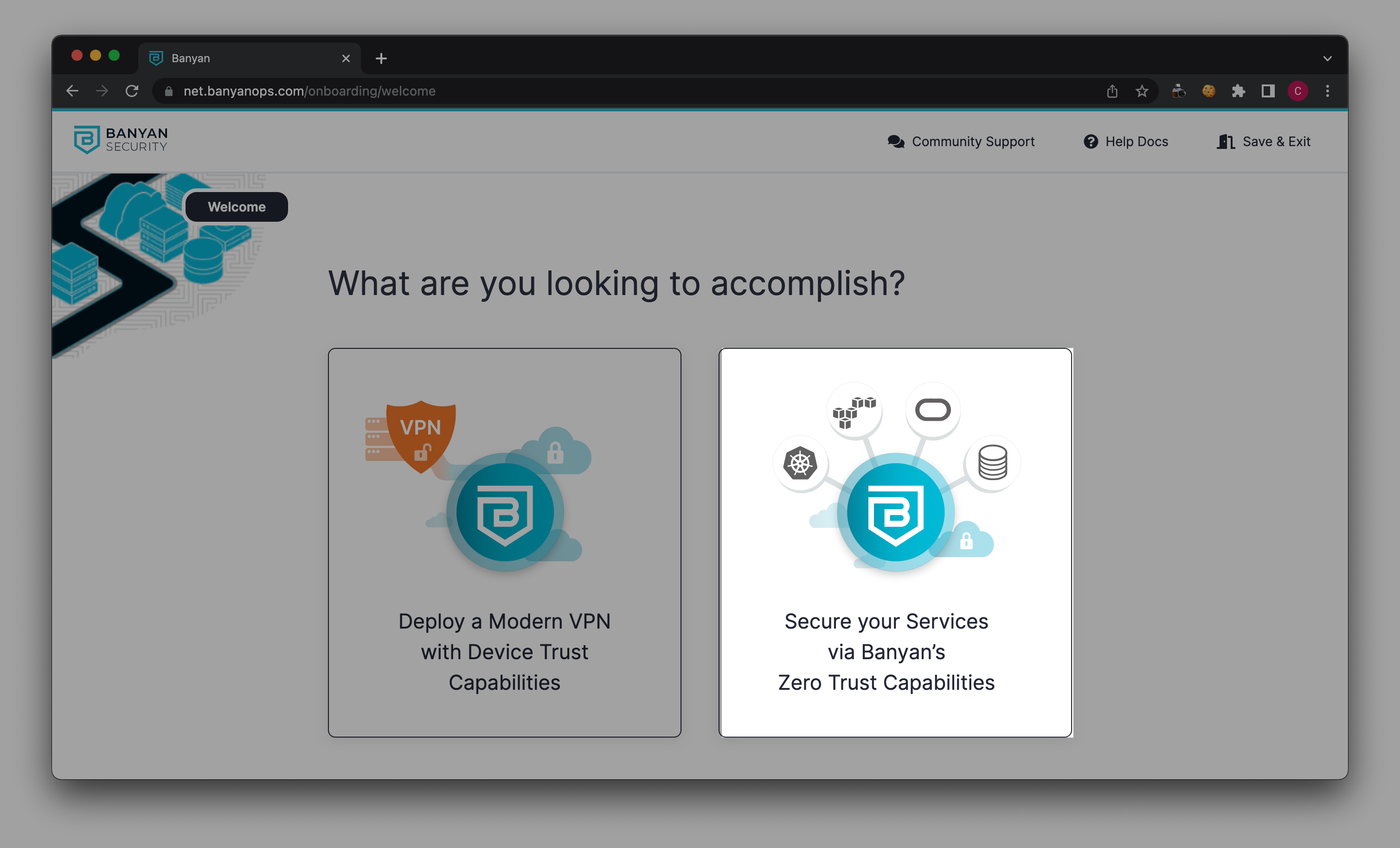 Note: You'll need a server that has access to a private network you want to provide access to. This server requires outbound internet access only.
Step 2: Choose to secure a Website or an SSH Service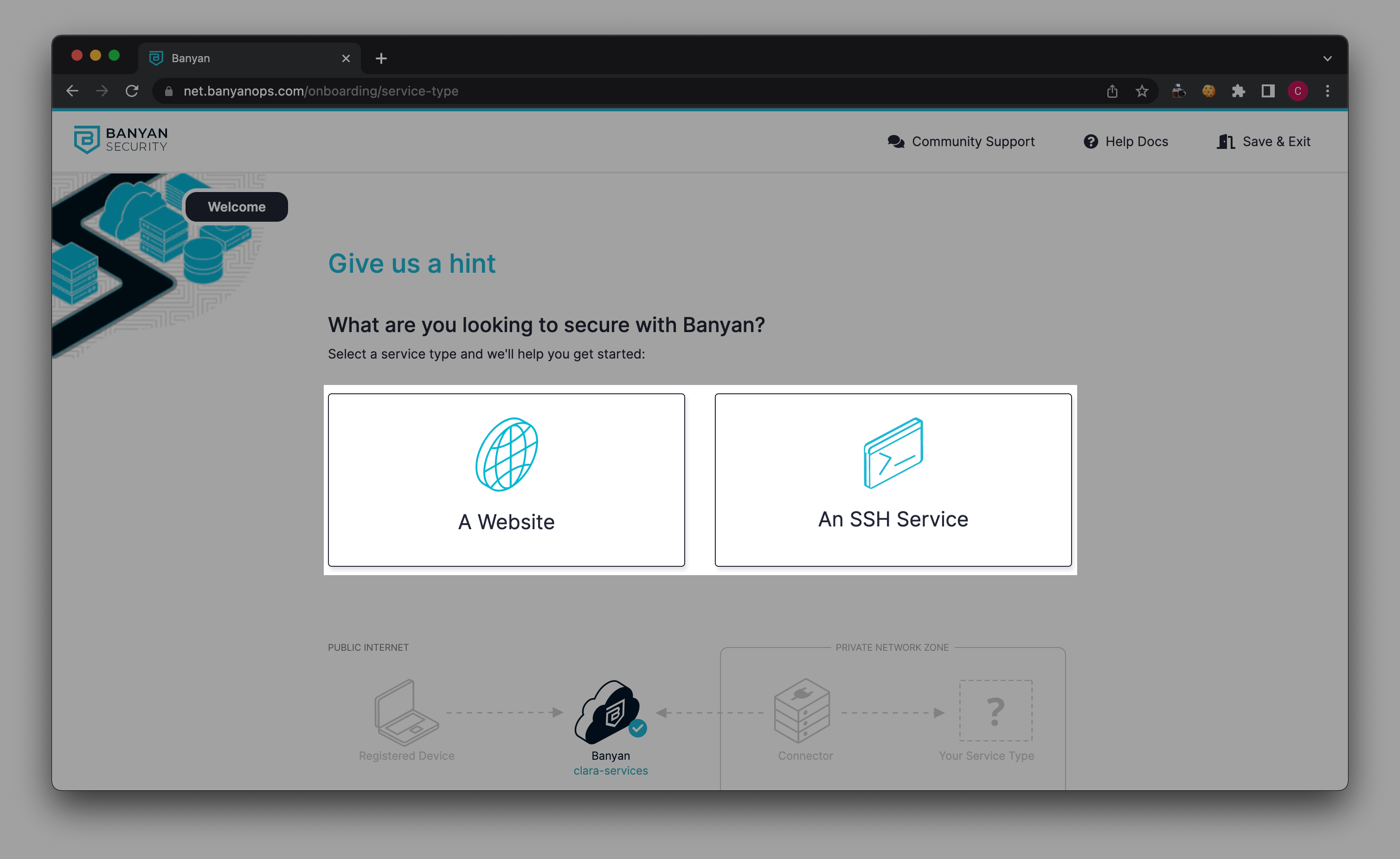 Step 3: Configure and install your Connector
3.1 Select Configure Connector.
3.2 Enter your Connector Name.
3.3 Enter the network CIDR range on which you want your Connector to be available.
Note: RFC-1918 Addresses (which have been pre-selected in the configuration page) are pre-designated private IP address spaces. If you want to specify an IP address range within an RFC-1918 private address space, select Custom CIDR in the menu.
3.4 Optional: Enter existing domains on your network.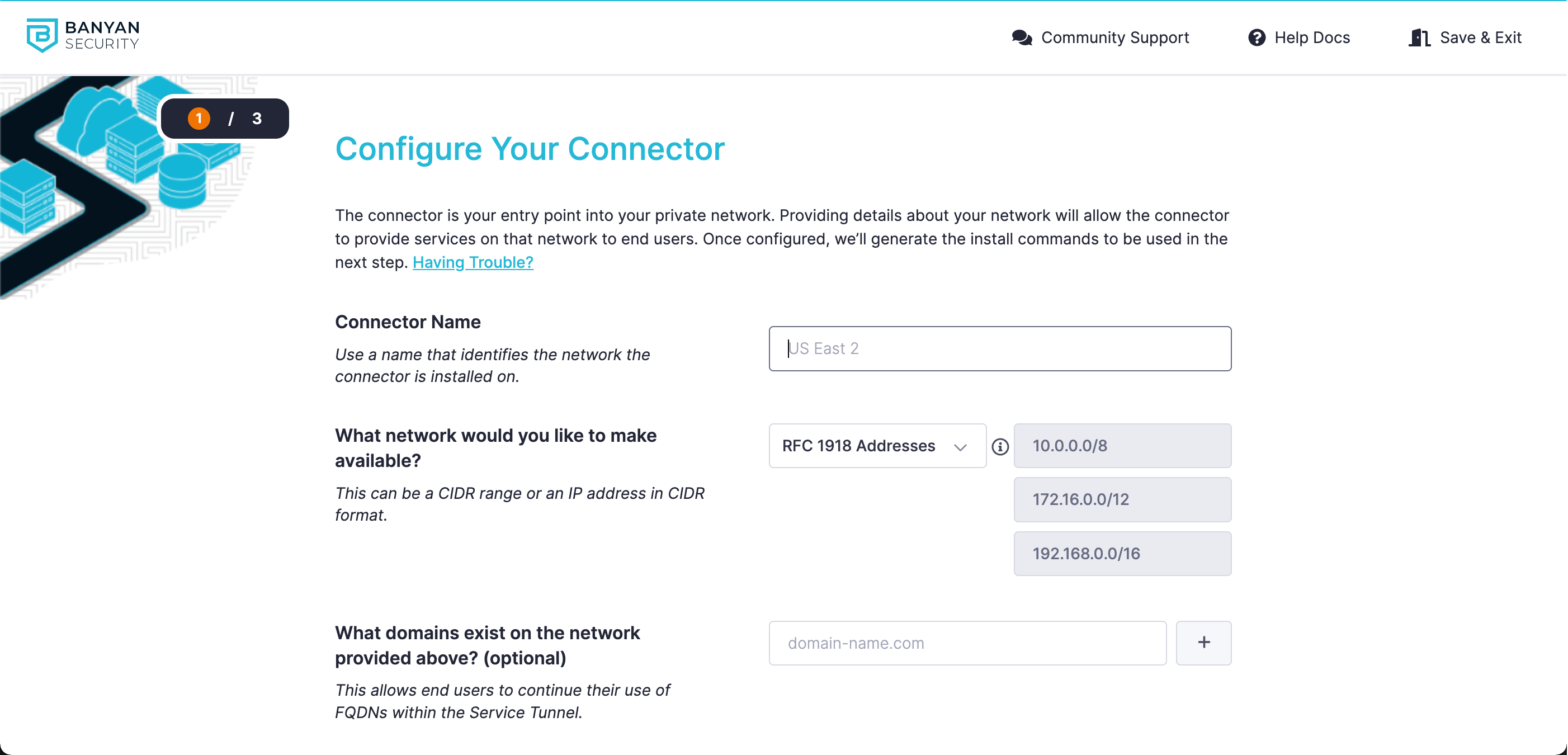 3.5 Select Install Connector to save your configuration.
3.6 Select your Installation Method (i.e., Docker Container or Tarball Installer). Ensure that you've installed the program that you choose to use as your installation method.
3.7
(a) If you select Docker, complete the following steps:
(i) Ensure that Docker is running.

(ii) In your CLI, enter the Connectivity Parameters code to set Banyan environment variables.

(iii) In your CLI, enter the Install code to run the container.

(b) If you select Tarball Installer, complete the following steps:
(i) Ensure that Tarball Installer is running.

(ii) In your CLI, enter the Install Connector code.

3.8 Select Test Connection.
Step 4: Register your Service
(a) Register a Website: Name your service, and select which groups can access it.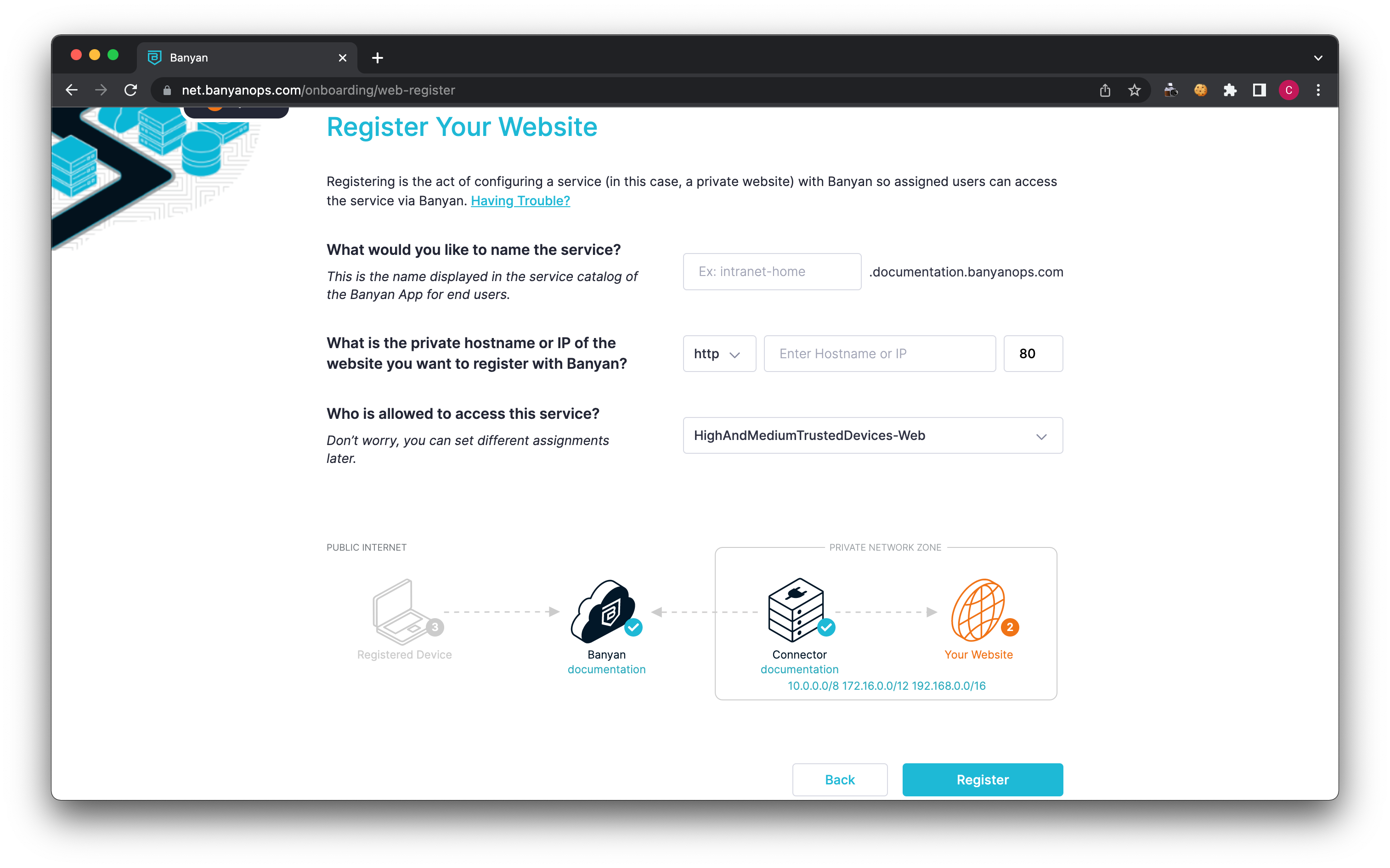 (b) Register an SSH Service: Name your SSH service, and select which groups can access it.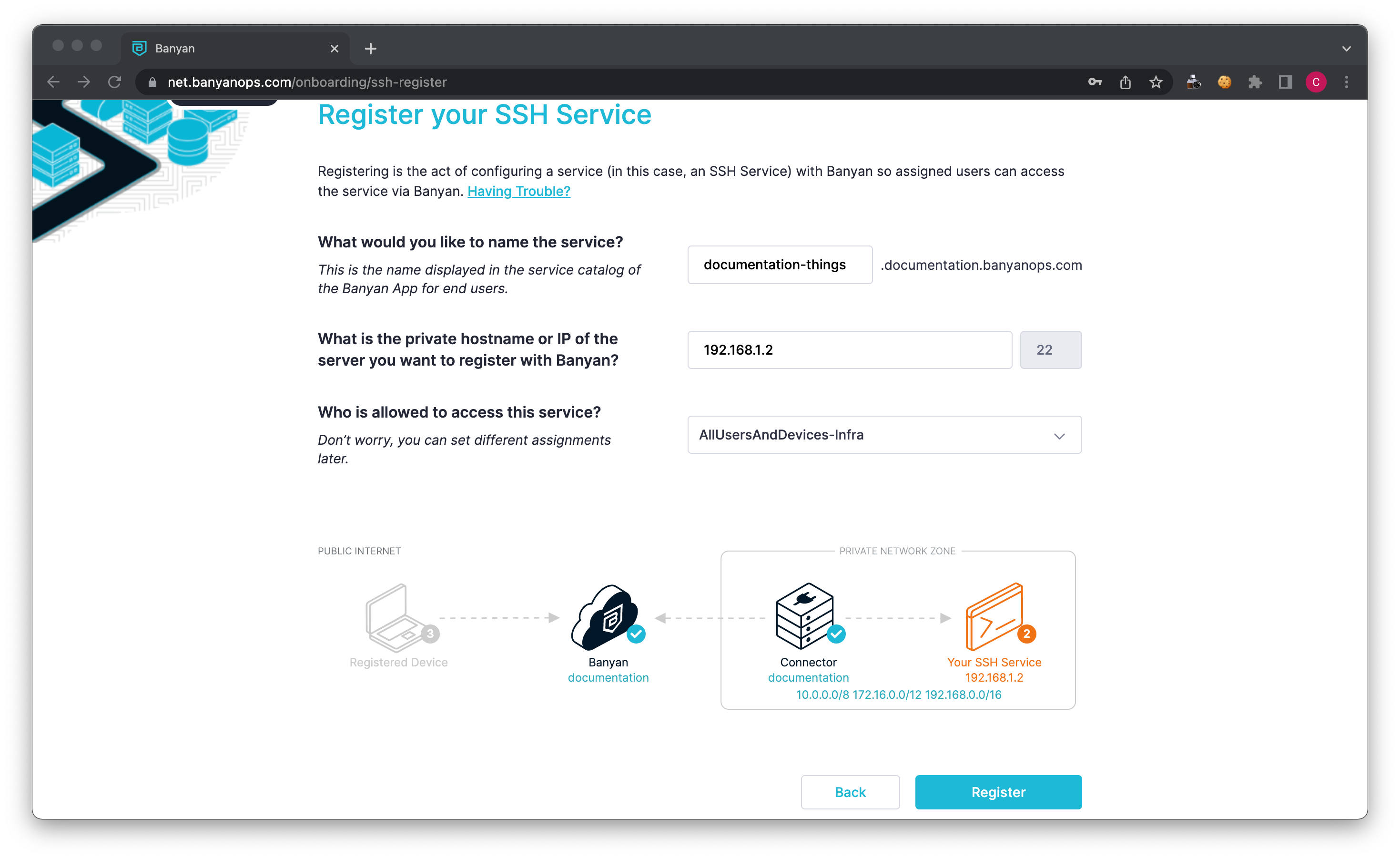 Step 5: Access resources on your network from a trusted device
5.1 Download and install Banyan's desktop app.
5.2 Open the Banyan desktop app, and enter your org's Invite Code.
Note: The Invite Code can also be found in Banyan's Command Center under Settings > Desktop & Mobile > App Deployment.
5.3 In the desktop app, navigate from Services > Infrastructure. Connect to the SSH service you created in Step 4.
Step 6: Invite other admins or end users to your org
At this point, you can invite other admins to help you configure your org, through the Command Center. You can also invite end users and give them access to your private networks and services.
6.1 In Banyan's Command Center, navigate from Directory & Infrastructure > Users, and select Add User.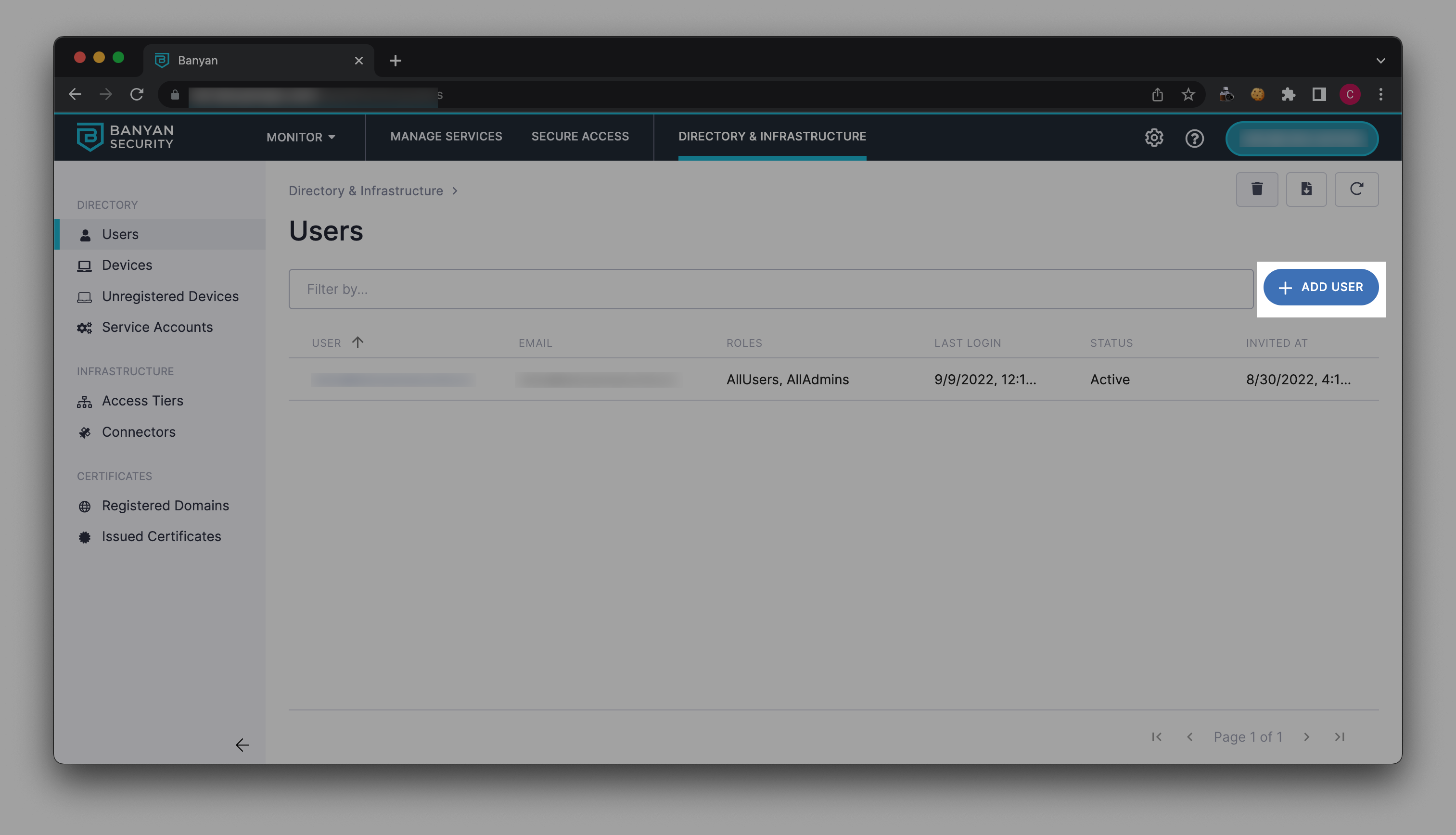 6.2 Enter the new user's Name and Email in their respective fields.
6.3 Under Roles, select a role from the Available category. This will transfer your selected role to the Selected category.
Note: If you're adding an end user, do not select the All Admins role.
6.4 Select Add User.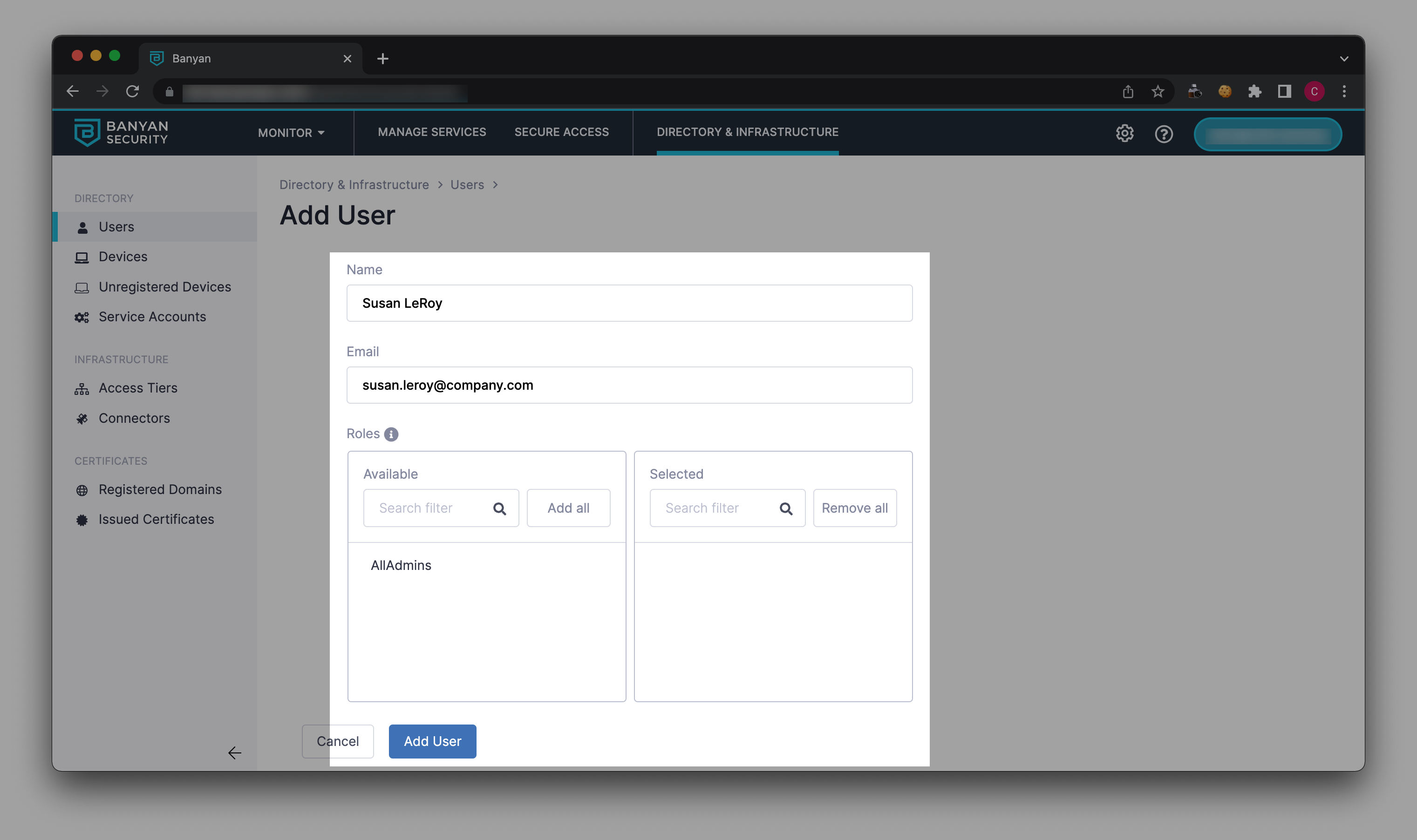 Can't find what you're looking for?
We're happy to help. Contact our team.