Rolling Out the Banyan App
Preparing your organization and educating your users so they can adopt a Zero Trust approach via Banyan.
---
Onboarding your services and applications with Banyan and granting access to your end users is a relatively simple process. This guide details the best practices to consider when migrating your end users away from a VPN and towards a Zero Trust world via the Banyan App.
1. Prepare your Organization
First, ensure you understand the basic Banyan concepts and followed our Quick Start Guides to prepare your organization and infrastructure for Banyan.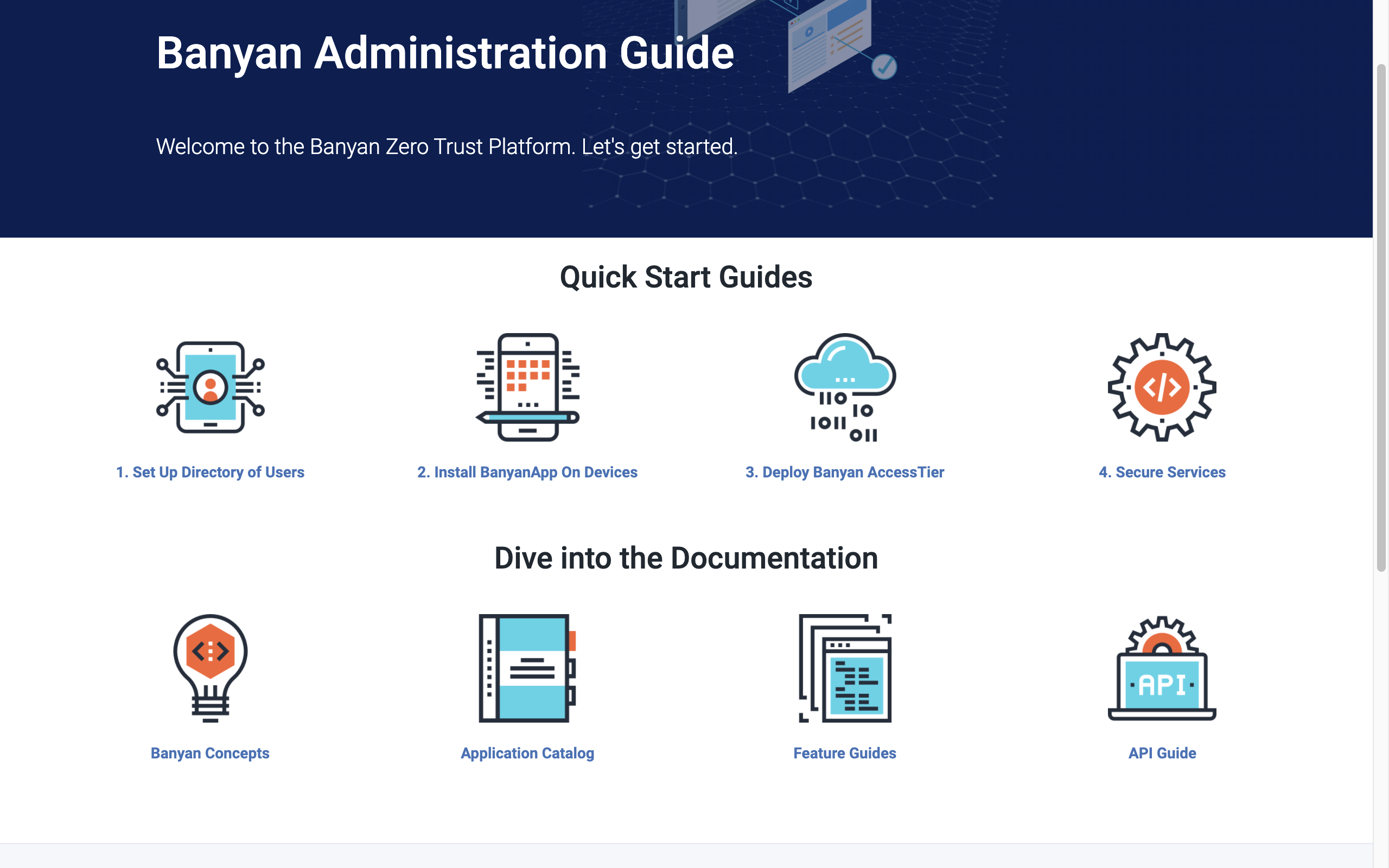 Banyan Admin Docs
2. Identify a Pilot Service & Group of Users
Now that you've prepared your organization, choose one application or service to configure and protect with Banyan. You can browse our Solution Catalog for step-by-step guides to configure common applications, such as Jira, self-managed GitLab or Dropbox.
Then, choose one team in your organization to test remote access via Banyan.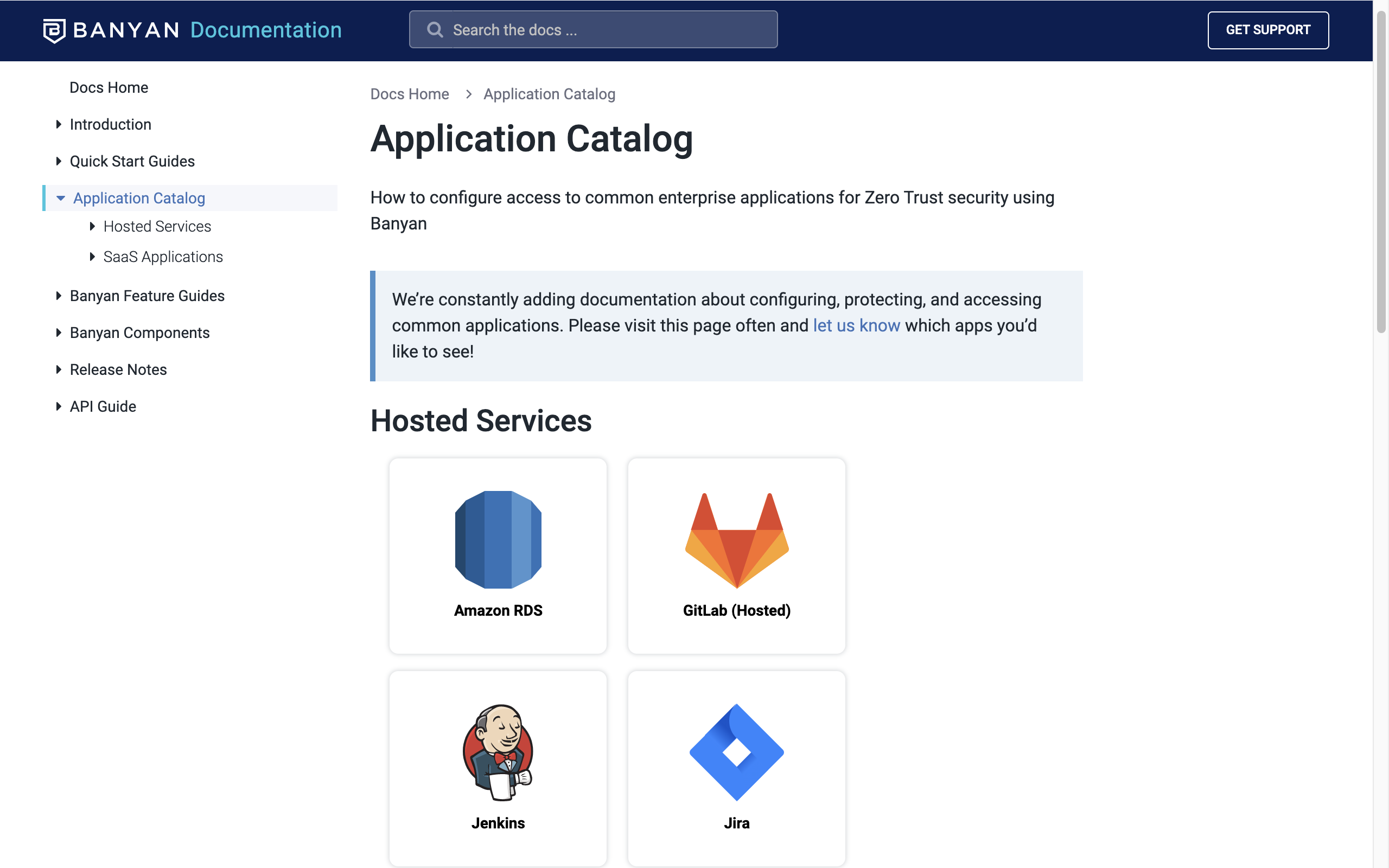 Solution Catalog
3. Familiarize Yourself with Banyan's Debugging and Auditing Tools
As your pilot team tests accessing the initial application or service, use Banyan's various debugging tools to ensure things are running smoothly and review support docs to learn more about each feature. For example:
Events Log Viewer
4. Announce to a Broader Audience
At this point, Banyan is running smoothly alongside your VPN. Now, you're ready to announce Banyan to a broader set of your organization's end users.
The section below provides a sample message to help your end users self-register their devices.
Sample Banyan App Announcement
You can use the following sample message and edit it per your organization's needs.
**[Our organization]** uses a variety of Cloud-based Applications and Services to be productive while working remotely. For example, **[GSuite for mail and calendar, Zoom for web conferencing, Salesforce for deals forecasting, Jenkins for developers' build pipeline, etc]**.

To enable easy access from your desktop and/or mobile devices to these applications and services, we use [Banyan Security](https://www.banyansecurity.io/)'s App. This lightweight client provides constant security checks without draining your battery, slowing your device, or [compromising your privacy](https://www.banyansecurity.io/legal/).

Please follow the instructions below to install the Banyan App, register your device, and begin accessing your normal applications and services.

1. On your preferred device, launch an Internet browser and navigate to **[https://getbanyan.app](https://getbanyan.app)** to download the latest version of the Banyan App.

2. Install the Banyan App on your device.

3. Follow the steps to register your device. When asked, use the invite code: **[insert your org's code here]**.

4. Launch the Banyan App and begin accessing your normal applications and services.

**NOTE**: For detailed instructions on registering your device with our organization and accessing applications and services, please see [Banyan's Support site](https://support.banyanops.com/support/solutions/44000629840).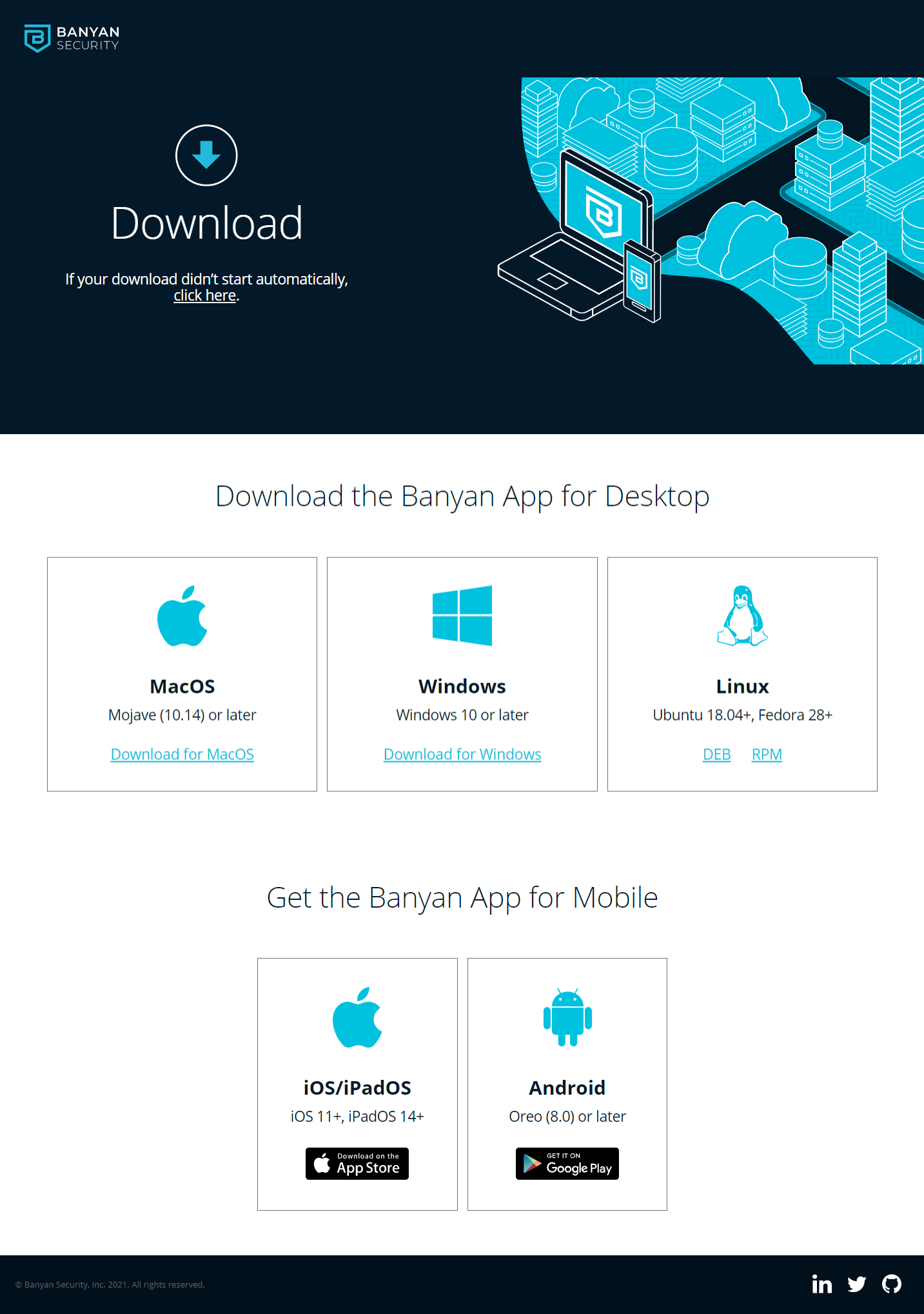 getbanyan.app Website
---
5. Additional Ideas for a Smooth Rollout
Although rolling out Banyan in your organization is a smooth process, consider taking additional steps to make things even easier.
Plan a "VPN holiday" in advance, making sure to have your support team on-call. Loop in Banyan's Customer Success team so that we're able to quickly take care of any potential issues that come up.
Additionally, consider hosting "office hours" for your end users to ask questions or troubleshoot potential issues.